e-Box serves as apaperless office and electronic filing cabinet.
This service involves scanning and electronic filing of your financial information into the Online Office's Electronic Document Management system for reduced paper storage.
e-Pay categorizes and records your bills.
With e-Pay's categorization and recording of bills and business transactions into the QuickBooks® file, tax liabilities are minimized. The accounts payable is also set up in QuickBooks®
e-Pay Pro authorizes and pays bills online.
This service manages cash flow and authorization of bill pay by on-line payment or issued check. We pay all your bills on time
e-Payroll processes payroll and taxes.
This service processes payroll, comprehensive payroll tax services and human resources; as well as entry of individual employee checks and payroll taxes into QuickBooks® file. Never cut another payroll check again!
e-Bookeeper reconciles bank, credit card, and investments.
This service involves reconciliation of bank statements, credit card statements and investment accounts with a quality review of QuickBooks® set-up, entries, and categorization. .
e-Reports produces comprehensive financial reports.
With this service we prepare comprehensive financial reports for management (Profit and Loss, Balance Sheet, Budget to Actual, Accounts Payable, Accounts Receivable, General Ledger). .
e-Sales simplifies your invoicing.
With this service, expect customization, preparation and delivery of business invoices for products and services as well as Accounts Receivable set-up and collection for invoices.
e-Collections eliminates awkward collections.
With e-Collections you will have no more calls for overdue invoices. Cash flow management ensures your receivables are collected on a timely basis.
Business Plan Preparation includes professional business consulting & services.
With this service you can expect business consulting and the completion of small administrative tasks involving Human Resource related issues, employee handbook preparation, etc.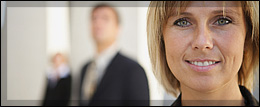 Additional Employment Costs Add Up:
• Training can easily cost two week salary.

• Overhead and office space (phones, internet, etc.) increase monthly costs.
• Employee turnover results in new advertising costs, search and interview time, and training. Inadequately Experienced Bookkeepers Will Cost You Even More Money!
• At year's end, when filing your taxes, if mistakes are found, you'll have to pay additional fees to a CPA (anywhere from $100-$200/hour) to "re-do" your books.
• Improper account coding can cause you to significantly overpay taxes.